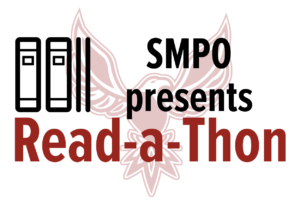 2018 Read-a-Thon Information
Each year, the Read-a-Thon brings in thousands of dollars for our school — and gets our little scholars excited about reading! The best part of the Read-a-Thon is that 100% the money raised is used at our school for our children. SMPO uses all the profits made each year to directly support our teachers and classrooms. We pay for field trip busses, special presenters in the classrooms, and extra supplies for the classrooms.
Students start collecting pledges on Friday, January 26. Friends and family can sponsor your child's reading either as a "flat rate" or "per minute."
Come to school 5–7 p.m. for Family Reading Night on Thursday, February 1 to kick off Read-a-Thon. Family Reading Night will feature fun literacy-based activities for kids of all ages, including a presentation of Pinocchio by Cincinnati Playhouse in the Park; an all-ages book swap (bring your gently used children's and adult books to swap for something new!); story time with this year's Caldecott nominees; and bookmark making.
Reading officially begins on Friday, February 2. Students have 15 days to read as many minutes as they can. Prizes will be awarded for fundraising efforts as well as minutes read.
Return your Reading Record Sheet, your Sponsorship Form, and your collected money to school in the provided envelope February 19–February 23. Checks should be made out to "SMPO." Please hold all money until all pledges are collected. Send in one envelope per child.
Read-a-Thon Rules
Use the Sponsorship Form to track your sponsors and how much they plan to donate
Start recording your reading minutes on February 2
The Reading Record Sheet should be used to track the minutes you read or are read to both at school and at home each day
Parents must sign the Reading Record Sheet to confirm that their child read their logged minutes. This will help to assure fairness.
No guessing minutes. Please look at a clock or use a timer to count your minutes.
THESE MINUTES DO COUNT!
Reading at home.
Reading on the bus.
Being read to by a parent, teacher, or friend.
Reading the cereal box at breakfast.
Reading at school (during times designated by your teacher).
Reading with a silly hat on your head.
Reading to a pet.
Reading before bed.
Reading after bedtime, under the covers, with a flashlight. (If your parents say it is ok!)
THESE MINUTES DO NOT COUNT!
Reading before February 2.
Reading after February 16.
Reading when you are supposed to be doing your math work.
All Participants Who Turn in a Reading Log and Sponsorship Form Will Receive a Prize!
Race For Pledges
The first two students in each class to let us know they've collected at least seven pledges will earn bonus Maker Space time in the Media Center with Ms. Robyn!
To enter, simply email smporeadathon@gmail.com and submit your child's list of sponsors. You can type a list or snap a picture and send to us! Be sure to also let us know your child's name and classroom number when you submit.
(Students can still continue to collect pledges after showing us they've collected at least seven sponsors)
Individual Prizes
The more pledges you collect, the more prizes you earn! Prizes are cumulative!
Participation: Pencil and Bookmark.
$10: Ice Cream Coupon, sponsored by Mt. Washington Creamy Whip.
$25: Pass for a Free Book in Ms. Robyn's Book Bin.
$50: ​$5 in Scholastic Bucks to be redeemed at the spring Book Fair for a book, up to $5 value.
$100: $10 Amazon Gift Card.
Eagle Reader Classroom
The classroom with the highest total minutes read will win a possession of the Eagle Reader Trophy for a year. The trophy will travel each year to that Read A Thon's Eagle Reader Classroom.
The winning classroom will also receive a $100 Scholastic Books Credit to outfit the classroom with brand new books!
Grand Prize
The student with the most minutes read from each grade level will be invited for a limousine ride and lunch with Principal Sarah Lord in March!